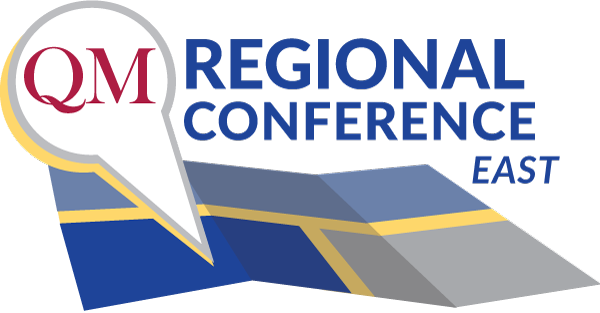 April 24, 2020
**Online**
Reimagining Quality Pathways
Every day online learning is changing. In response, you are Reimagining Quality Pathways — continually seeking new ways to provide online learners with quality learning environments that support success. Get the inspiration you need at the 2020 East Regional Conference in New York City. Through pre-conference workshops and dozens of sessions, explore how your peers are meeting the needs of today's learners and leave with new ideas, best practices and research-supported innovations that you can put into action at your organization. 
This conference will be delivered fully online due to the COVID-19 pandemic.
THANK YOU to all our presenters for their flexibility — almost all originally-scheduled sessions will be delivered through Zoom webinar. If you registered for this conference before March 19, you should have received notification regarding the change in delivery format and price. If you did not receive that notification or have questions about your registration, please
contact us via email
.
Keynote Presentation
Expanding Impact by Reimagining Pathways in Work, Career, and Life

Friday, April 24

Creating quality online learning experiences for students, and communities of practice for faculty and designers, is dependent upon the continuing commitment of leaders within and between institutions. Growing your career can support our collective commitment to quality for students by putting more designers and faculty in positions to direct strategy, craft institutional priorities and policies, and designate resources. Come explore how you can re-imagine your contribution to the field through leadership progression through a variety of pathways. Discover mechanisms for advancing without losing your mind while staying mission-driven. 

Presented by: Sasha Thackaberry, Vice President for Digital and Continuing Education at Louisiana State University

Dr. Sasha Thackaberry is a higher education leader in innovative learning models and the effective use of eLearning systems. She holds the role of Vice Provost of Digital and Continuing Education at Louisiana State University. Before her current role, she served as Assistant Vice President for Academic Technology and New Learning Models at Southern New Hampshire University. She was previously the District Director of eLearning Technologies for the Office of eLearning and Innovation (eLi) at Cuyahoga Community College, responsible for both operational support for eLearning technologies and for innovative learning projects. In that role, she led the administration and front end support for Blackboard Learn, as well as other academic technologies. She also led Quality Matters initiatives at Tri-C, including serving as the QM Coordinator. She has consulted for higher education organizations, for corporations in their eLearning efforts and in the K-12 sector.
Concentrations and Sessions
Click on the concentration headings below to see a description and list of sessions.