Listen. Share. Get ideas
at #QMEastConf.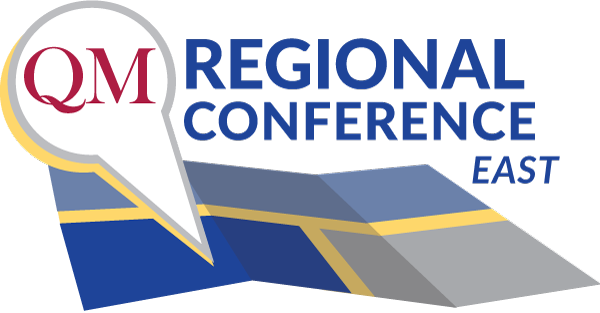 March 22 & 23, 2018
Towson, Maryland
Managing Quality at Scale
Join your colleagues in Towson, Maryland to explore Managing Quality at Scale within the context of the eastern U.S. region. Get actionable ideas and best practices to create, implement and manage a quality assurance program that fits the needs and goals of your organization. Learn from the quality assurance plans and achievements of other organizations, and delve into related topics such as building buy-in, student success and accessibility. This conference is hosted by Towson University — one of the nation's top regional public universities — conveniently located just outside of Baltimore.
Keynote Presentation
Keynote: Perspectives on Scaling Quality in Online Learning: MOOCs and Microdegrees, "Traditional" Online Courses, and Personalized Learning

Friday, March 23, 2018 — 8:45 - 10:15 a.m.

Panel: Cristi Ford, Associate Vice Provost of Learning Innovations at University of Maryland-University College and Paul Walsh, Program Director, University System of Maryland

Creating an online course is an art and the best faculty finely craft their courses for the greatest impact. With quality at the heart of that process, how does scale change design and delivery? Must engagement and innovation suffer in a course developed for several thousand learners or for a proto/template course used by multiple sections? Does scale stifle the creative process or ultimately impact student success?

Join the discussion as perspectives on scaling quality and approaches to program design, delivery, and pedagogy are shared. 
Concentrations and Sessions
Pre-Conference Workshops
Sign up for workshops when completing your registration. Get a $50 discount when you sign up for two.
Morning Half-Day Workshops: March 22, 8:00 a.m. - Noon

Copyright Compliance for Online Courses

Facilitated by: Raquel Marti and Enrique Castellanos, Universidad de Puerto Rico en Carolina

The development and growth of distance education has significantly increased educational institutions' risk of copyright infringement. However, many institutions are unaware of the strict and severe liability implications under U.S. Copyright Law for infringing online courses developed by their faculty or staff. Under the law, institutions can be held economically liable even if they are incognizant of the infringing activity. To complicate matters further, application of copyright law by faculty to online courses is frequently misunderstood. This environment requires that institutions address copyright compliance for online courses as an ongoing risk management issue. This workshop provides a dual strategy solution for educational institutions to significantly reduce their copyright vulnerability. The first part will provide a coherent explanation of copyright law, including the TEACH Act, Fair Use and other provisions as they apply to the development of online courses. The second part will address institutional standards for copyright compliance through policy formation, implementation, training, assessment, and enforcement.

Connecting Learning Objectives and Assessments (Standards 2 & 3)

Facilitated by: Jillian Jevack, Quality Matters

This workshop reviews course- and module-level learning objectives or competencies while using alignment to ensure that assessments are varied and supportive of the learning objectives or competencies. Participants apply these concepts to developing and/or reviewing their own course objectives or competencies and assessments. The content is based on Standards 2 and 3 of the Quality Matters Rubric.

QM for Administrators: The Why, What, When, and How of QM Implementation

Facilitated by: Brenda Boyd, Quality Matters

Get acquainted with QM's underlying principles; the critical materials, processes, and administrative elements of QM's quality assurance program; and the opportunities and challenges of QM institutional implementation through the lens of institutional culture. This is a practical workshop, stressing the questions administrators need to answer to successfully develop an implementation strategy.

Designing for Presence: QM and the Community of Inquiry Framework

Facilitated by: Bethany Simunich, Kent State University

This workshop explores the intersection of instructional design principles, the Quality Matters Rubric Standards and the Community of Inquiry (CoI) framework. Teaching presence begins with the design of the course, but many QM Standards also work to promote presence opportunities (including teaching, social and cognitive) while the course is being delivered. Participants will gain a firm grounding in the CoI framework and then discuss various design and development best practices that can provide presence opportunities, while also exploring ways to focus on presence during delivery.

Afternoon Half-Day Workshops: March 22, 1:00 p.m. - 5:00 p.m.

Implementing QM and Working Toward Program Certification

Facilitated by: Melissa Poole, Quality Matters

Are you implementing QM? Learn what it takes to attain one of QM's new Program Certifications in this half-day workshop. No matter if you are just getting started or have been implementing QM for years, this workshop will prepare you for a pathway to QM Program Certification. Workshop participants will learn about candidacy eligibility, timelines, and needed data. Come away determining where your institution stands and with a plan to attain QM Program Certification.

Using Instructional Materials and Technology to Promote Learner Engagement (Standard 4/5/6) - SOLD OUT

Facilitated by: Jillian Jevack, Quality Matters

Alignment relies not only upon the connection between learning objectives and assessments but also upon connections with instructional materials, learning activities, and technology. In this workshop we will explore how to effectively integrate instructional materials, learning activities, and technology with one another to support students towards success on assessments and in meeting course objectives.

Improving Your Online Course  

Facilitated by: Diana Zilberman, Baltimore City Community College

This workshop explores the QM Rubric and provides a framework to improve the quality of online and blended courses. Participants use the QM Rubric to review their own courses and develop a course improvement plan.

The content is based on the 21 essential Specific Review Standards of the Quality Matters Rubric.  Participants come away with a plan for course improvement so enrolling in the workshop with a pre-developed online or blended course is required.

The ABCs of Quality Online Learning Research: Applied, Beneficial, Centered  

Facilitated by: Bethany Simunich, Kent State University

After discussing recent findings, unique challenges and future opportunities, participants will be guided in applying the Quality Matters Research Toolkit and the Research Decision-Making Tree  to student retention and/or learning. Participants will work in small groups to create basic research plans for conducting Applied research that is Beneficial to all stakeholders, and Centered on previous scholarly research.
This QM Conference is sponsored by Towson University and the USM William E. Kirwan Center for Academic Innovation.