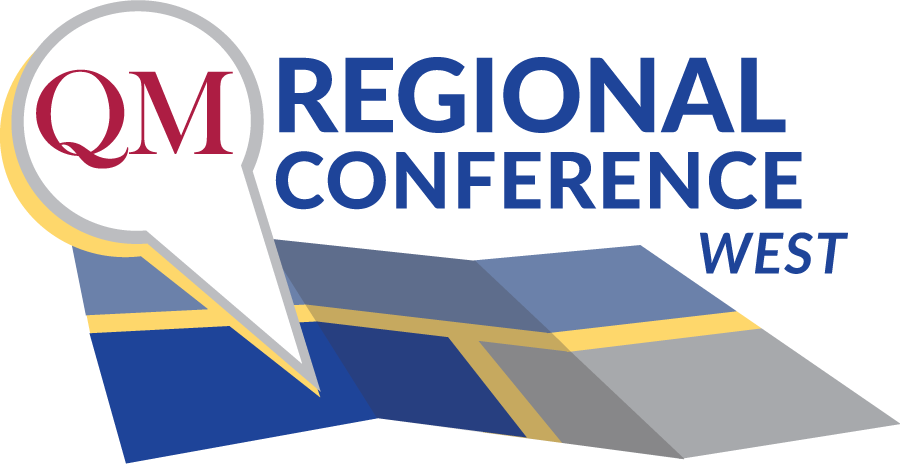 April 2 & 3, 2020
CSU Fullerton | Fullerton, CA
Reaching for Student Success
Each day you are "Reaching for Student Success" — working to create online learning environments that work for everyone regardless of age, race, gender, income, etc. You are not alone in this quest. Join your peers in the Western Region to tackle this challenge together. Discover how to move past the one-size-fits-all model and bring out the best in all students. Return to your institution with the fresh ideas, best practices and research you need to ensure that students receive the education they deserve.
Keynote Presentation
Leaning into Leadership: The Journey from ID to Dean to Associate Vice Provost

Friday, April 3

Like many in the field of education, the student experience has always served as Melody Buckner's guiding light. Her work with Quality Matters and a desire to help students succeed in a course, a program or in life provided a foundation as she reluctantly moved into leadership roles. How did she balance her goals for making an impact on the student experience with the demands of leadership? How did her experiences using QM help prepare her? Join Melody as she shares her experiences — and lessons learned — with the hope of teaching, inspiring and making you laugh. She'll provide advice for those interested in pursuing leadership opportunities and guidelines for making an impact at any level. Participants will also create an individual pathway oriented towards his or her own goals based on the principles presented.

Presented by: Melody Buckner, Associate Vice Provost of Digital Learning Initiatives and Online Education at the University of Arizona

Dr. Melody Buckner is an online education innovator, with broad experience across the field. Prior to her current position as Associate Vice Provost of Digital Learning Initiatives and Online Education at the University of Arizona (UA), Dr. Buckner served as the University's Senior Director of Digital Learning and Online Education. In that role, she created an office of instructional design, visual design, video production, and quality assurance, building on her prior experience as both an instructional designer and adjunct faculty member. Dr. Buckner also served as UA's Interim Dean of UA South from 2016 to 2019. One reason she was chosen for that role is her unique ability to understand the demands of a non-traditional student — an ability she gained while completing her graduate degrees both online and during evening and weekend programs.
Concentrations and Sessions
Click on the concentration headings below to see a description and list of sessions.
Pre-Conference Workshops
Click the headings below to see workshop titles. Sign up for workshops when completing your registration. Get a $50 discount when you sign up for two.
Morning Half-Day Workshops: April 2, 8:00 a.m. - Noon

Planning for Quality Assurance with QM (formerly QM for Administrators: The Why, What, When and How of QM Implementation)*

Facilitated by: Brenda Boyd, Quality Matters

Formerly "QM for Administrators: The Why, What, When and How of QM Implementation," this workshop is for those interested in or charged with implementing QM at their institutions. Participants will be introduced to a Planning Framework and a quality assurance excellence model to assist in designing and executing a QM implementation strategy that supports institutional and online program goals.

Using Instructional Materials and Technology to Promote Learner Engagement (Standards 4/5/6)* 

Facilitated by: Jillian Jevack, Quality Matters

Alignment relies not only upon the connection between learning objectives and assessments, but also upon connections with instructional materials, learning activities, and technology. In this workshop you will explore how to effectively integrate instructional materials, learning activities, and technology with each other to support learners towards success on assessments and in meeting course objectives.

Focus on QM Rubric Standards 4, 5 and 6 to both develop and review courses.

The ABCs of Quality Online Learning Research: Applied, Beneficial, Centered*

Facilitated by: Bethany Simunich, Quality Matters

After discussing recent findings, unique challenges, and future opportunities, participants will be guided in applying the Quality Matters Research Toolkit and the Research Decision-Making Tree related to student retention and/or learning. Participants will work in small groups to create basic research plans for conducting Applied research that is Beneficial to all stakeholders and Centered on previous scholarly research.

Creating Accessible Documents, Web Pages, and Images* 

Facilitated by: Cecelia Green, Quality Matters

This workshop will prepare participants to create accessible documents using Microsoft Word, generate accessible PDFs, create accessible web pages, and format images so they are accessible. Participants will explore Microsoft Word features to create an accessible document and generate a PDF file from their Microsoft Word document. Using styles for web pages will be explored. Participants will apply the appropriate method for adding alternative text to images and tables as well as creating accessible hyperlinks.

Afternoon Half-Day Workshops: April 2, 1:00 p.m. - 5:00 p.m.

Pathways Toward QM Program Certification (formerly Implementing QM and Working Toward Program Certification)*

Facilitated by: Melissa Poole, Quality Matters

Formerly "Implementing QM and Working Toward Program Certification," this workshop introduces the four QM Program Certifications and review pathway options. QM Coordinators, eLearning Directors, online learning department heads, and other leaders interested in quality assurance for their online programs should attend this workshop. Participants will learn about candidacy eligibility, timelines, and needed data. Come away with an understanding of where your institution stands, as well as a plan to attain QM Program Certification.

Designing for Presence: QM and the Community of Inquiry Framework

Facilitated by: Bethany Simunich, Quality Matters

This workshop explores the intersection of instructional design principles, the Quality Matters Rubric Standards, and the Community of Inquiry (CoI) framework. Teaching presence begins with the design of the course, but many QM Standards also work to promote presence opportunities (including teaching, social, and cognitive) while the course is being delivered. Participants will gain a firm grounding in the CoI framework, and then discuss various design and development best practices that can provide presence opportunities, while also exploring ways to focus on presence during delivery.

Strengthening Course Design

Facilitated by: Jillian Jevack, Quality Matters

In this workshop, participants will examine the six QM Specific Review Standards related to alignment and apply them to their courses. The concept of "alignment" means all course elements are working together to ensure students meet the desired learning outcomes. Using the QM Standards and Annotations as their guide, participants will develop an individualized improvement plan noting strengths and areas for improvement. The plan will also include prioritization of improvements and determining the resources needed to make the changes.