A Learning Experience Like No Other.
#QMConnect Online With Quality.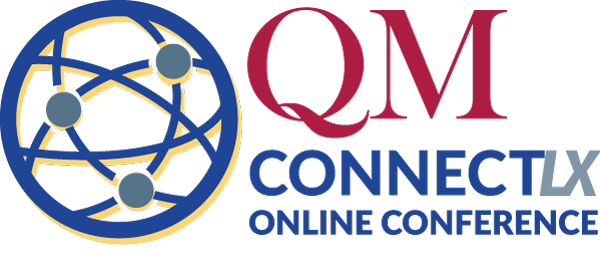 ​
October 22-23 & 26-28, 2020
Online
All times listed are Eastern Time — convert to your time zone.
Bring Quality Into Focus
As we move past the unprecedented pivot to remote learning, it's time to look ahead. It's time to provide students with online learning experiences that promote engagement and success. It's time to come together as a community and share our collective knowledge. It's time to prepare for whatever may come next. It's time to rethink how things have always been done.
Introducing QMConnectLX — an online, multi-day learning exchange providing expanded, customizable learning opportunities for individuals and institutions across the globe. Featuring a mix of events — including interactive workshops, concurrent sessions and course checkups — each component is designed to help you grow your online skills and learn from others. The best part? You can mix and match and choose what works best for you! 
Explore all that QM ConnectLX has to offer and register today.
---
Select the heading to see details
Event At-A-Glance
Thurs. - Fri., Oct. 22 & 23
10:00 am - 7:00 pm ET
Workshops: 2 hr - full day options
Mon. - Wed., Oct. 26 - 28
10:00 am - 5:00 pm ET
Concurrent Sessions
Monday, Oct. 26
10:00 am - 10:50 am ET
Opening/Welcome Session
Monday, Oct. 26
5:30 pm - 7:00 pm  ET
Virtual Happy Hour
Mon. - Wed., Oct. 26 - 28
10:00 am - 5:00 pm ET
Course Checkup Sessions
Fees
Professional Development Workshops*
Two-Hour QM Live!: $75
Half-Day (4 hours): $150
Full-Day or 2 Half-Day (8 hours): $250
*Multi-session discounts available. Conference registration required.
Conference Sessions & Networking
Pricing is currently $400 — one day options available
Register by September 17 for the best rate
Group discounts available
Reasons to Attend
Participate in learning opportunities for all skill levels and positions
Create your own experience
Learn in preparation for the future
Hear from experts
Get hands-on help from an instructional designer
Connect with other educators
Need help communicating the value of attending? Check out, "How does attending a QM Conference help my organization?" for tips and a sample letter.