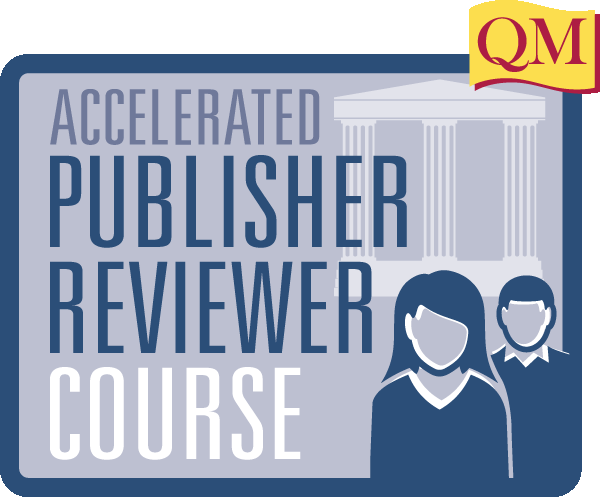 Accelerated Publisher Reviewer Course for QM HE Peer Reviewers
An accelerated course for experienced Higher Ed. Peer Reviewers who would like to serve as reviewers on Higher Ed. Publisher course reviews.
Course Length:
Three hours (estimated)
Delivery Mode:
Online (Asynchronous)
Register
Fee with Membership:
$50.00
Become certified as a Higher Education Publisher Reviewer and serve on Publisher Course Review teams. In this course, you will become familiar with the Higher Education Publisher Rubric, Third Edition and gain the skills needed to review Higher Education Publisher courses.
Recommended For
Current Higher Education Peer Reviewers seeking to serve on Higher Education Publisher course reviews.
Learning Objectives
Define a publisher course.
Select why publisher courses required the creation of a unique set of design standards.
Identify the differences between the QM Higher Education Rubric and the QM Higher Education Publisher Rubric.
Recognize the focus of recommendations for Specific Review Standards in a publisher course.
Identify critical differences in the Publisher Rubric Standards and Annotations compared to the Higher Education Rubric Standards and Annotations.
Identify differences in the composition of review teams and the scoring rules for publisher courses.
Differentiate among the three different types of Publisher Reviews
Differentiate among the different compositions of review teams for each of the three types of reviews.
Prerequisites
QM-Certified Peer Reviewer for Higher Education
What Participants Need
Knowledge of the QM Higher Education Rubric, Fifth Edition, 2014