It's time to #QMConnect Again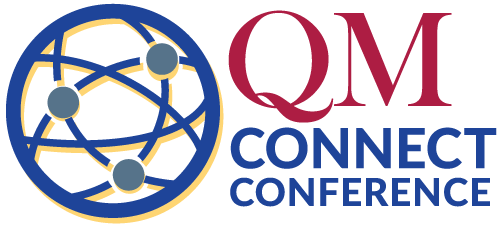 Oct. 30 - Nov. 2, 2018
St. Louis, Missouri
Gateway to Quality
10th Annual Conference on Quality Assurance in Online Learning
Meet the QM Community in St. Louis this October and open the Gateway to Quality. Discover solutions to your online learning challenges including engagement, accessibility and sustainability with nine concentrations to choose from. You'll connect with colleagues from around the world — build your network and exchange ideas to help deliver on your online promise. Participate in the future of online learning. And celebrate the journey — QM Connect is turning 10! Join us to mark 10 years of connecting and sharing, as well as 10 years of growth in online education.
Keynote Presentation
Concentrations — More Sessions Coming Soon!
Click on the concentration headings below to see a description. Session descriptions are being added as they are confirmed.
Pre-Conference Workshops
Click the headings below to see workshop titles. Sign up for workshops when completing your registration. Get a $50 discount when you sign up for two.
Full-Day Workshop: October 30, 8:00 AM - 5:00 PM

Designing Quality Courses with Learning Environment Modeling

Facilitated by: Bucky Dodd, University of Central Oklahoma

Educators and instructional professionals can often encounter collaboration challenges when designing online courses. Successful online courses involve a team of people who need to work well together to achieve a common goal. In this interactive workshop, you'll learn how to use Learning Environment Modeling™ (LEM), an award-winning visual learning design system to accelerate the collaboration and design of quality online and blended courses. You will discover how LEM can be used as a tool to communicate your vision for learning experiences while aligning design decisions with quality benchmarks and outcomes. Finally, you'll discover how LEM can transform the way people collaborate, design, and implement quality online and blended learning experiences.

Morning Half-Day Workshops: October 30, 8:00 AM - Noon

QM for Administrators: The Why, What, When, and How of QM Implementation

Facilitated by: Brenda Boyd, Quality Matters

Get acquainted with QM's underlying principles; the critical materials, processes, and administrative elements of QM's quality assurance program; and the opportunities and challenges of QM institutional implementation through the lens of institutional culture. This is a practical workshop, stressing the questions administrators need to answer to successfully develop an implementation strategy.

Connecting Learning Objectives and Assessments (Standards 2 & 3)

Facilitated by: Kathy Tally, Quality Matters

This workshop reviews course- and module-level learning objectives or competencies while using alignment to insure that assessments are varied and supportive of the learning objectives or competencies. Participants apply these concepts to developing and/or reviewing their own course objectives or competencies and assessments. The content is based on Standards 2 and 3 of the Quality Matters Rubric.

Designing Your Online Course

Facilitated by: Eddie Andreo, Cowley County Community College

This workshop includes an overview of the QM Rubric and provides a framework for participants to design an online course plan. An integral element of the workshop is exploration of the eight General Standards of the QM Rubric, focusing on learning objectives and overall course alignment. Participants will complete a Module Planning Worksheet to design one module of an online course. The worksheet includes course and module learning objectives, assessments that align with the learning objectives, instructional materials that support the learning objectives and activities, and tools and media that enhance student interaction with classmates, content, and the instructor.

Creating Accessible Documents, Web Pages and Images

Facilitated by: Cecelia Green, Quality Matters

This workshop will prepare participants to create accessible documents using Microsoft Word, generate accessible PDFs, create accessible web pages, and format images so they are accessible. Participants will explore Microsoft Word features to create an accessible document and generate a PDF file from their Microsoft Word document. Using styles for web pages will be explored. Participants will apply the appropriate method for adding alternative text to images and tables as well as creating accessible hyperlinks.

Recommended for anyone interested in learning about how to create accessible documents, web pages and images.

Copyright Compliance for Online Courses

Facilitated by: Raquel Marti and Enrique Castellanos, Universidad de Puerto Rico en Carolina

Are you aware of the strict and severe liability implications under U.S. Copyright Law for infringing online courses developed by their faculty or staff? Under the law, institutions can be held economically liable even if they are not aware of the infringing activity. To complicate matters further, application of copyright law by faculty to online courses is frequently misunderstood.

This workshop provides a dual strategy solution for educational institutions to significantly reduce their copyright vulnerability. The first part will provide a coherent explanation of copyright law, including the TEACH Act, Fair Use and other provisions as they apply to the development of online courses. The second part will address institutional standards for copyright compliance through policy formation, implementation, training, assessment, and enforcement.

Course Design as a Means to Enliven Learning

Facilitated by: Zakaria Jouaibi, North Carolina Central University

Most (if not all) of our discussions on how to promote learning and permeate student success, whether online or onsite, are monopolized by one theme: How can we teach better? Unfortunately, we rarely talk about course design as a means to enlivening teaching and learning.  Excellent teaching starts with a pedagogically/andragogically sound course design.  A well-designed, robustly aligned, intuitively navigated, and easily accessed course engages learners in meaningful learning, provides them with greater flexibility in pacing their learning, and promotes efficacious achievement of the intended learning outcomes.

Using F2F Strategies for Active Learner Engagement in Online and Hybrid Courses

Facilitated by: Susan Fein, Oregon State University

BYOD to experiment and play with active learning technologies such as Perusall for close reading and collective annotations or Learning Catalytics for peer learning. See how these traditionally F2F tools were successfully implemented in online and hybrid classes, then apply them to your discipline. You'll leave with strategic solutions to increase learner interaction and engagement, plus an active-learning mind map full of collaboratively-curated resources to reference after the workshop.

Afternoon Half-Day Workshops: October 30, 1:00 PM - 5:00 PM

Implementing QM and Working Toward Program Certification

Facilitated by: Melissa Poole, Quality Matters

Are you implementing QM? Learn what it takes to attain one of QM's new Program Certifications in this half-day workshop. No matter if you are just getting started or have been implementing QM for years, this workshop will prepare you for a pathway to QM Program Certification. Workshop participants will learn about candidacy eligibility, timelines, and needed data. Come away determining where your institution stands and with a plan to attain QM Program Certification.

Using Instructional Materials and Technology to Promote Learner Engagement

Facilitated by: Kathy Tally, Quality Matters

Alignment relies not only upon the connection between learning objectives and assessments but also upon connections with instructional materials, learning activities, and technology. In this workshop we will explore how to effectively integrate instructional materials, learning activities, and technology with one another to support students towards success on assessments and in meeting course objectives.

Improving Your Online Course  

Facilitated by: Eddie Andreo, Cowley County Community College

This workshop explores the QM Rubric and provides a framework to improve the quality of online and blended courses. Participants use the QM Rubric to review their own courses and develop a course improvement plan.

The content is based on the 21 essential Specific Review Standards of the Quality Matters Rubric.  Participants come away with a plan for course improvement so enrolling in the workshop with a pre-developed online or blended course is required.

Designing for Presence: QM and the Community of Inquiry Framework

Facilitated by: Bethany Simunich, Kent State University

This workshop explores the intersection of instructional design principles, the Quality Matters Rubric Standards, and the Community of Inquiry (CoI) framework. Teaching presence begins with the design of the course, but many QM Standards also work to promote presence opportunities (including teaching, social, and cognitive) while the course is being delivered. Participants will gain a firm grounding in the CoI framework, and then discuss various design and development best practices that can provide presence opportunities, while also exploring ways to focus on presence during delivery.

Captioning Videos and Making Multimedia Accessible

Facilitated by: Cecelia Green, Quality Matters 

This workshop will prepare participants to use YouTube and Amara to quickly and easily add closed captions to videos. Participants will get hands-on practice on how to use videos, animations, and audio as engaging instructional materials that are accessible. Ensuring your multimedia is accessible will benefit all of your learners. Closed captioning your videos will not only benefit learners with disabilities but can improve learning for learners with a range of other needs and strengths.

Recommended for anyone interested in learning how to close caption videos and ensure multimedia is accessible.

Note: Participants in this workshop will need a YouTube Account and a 2-3 minute video upload to their YouTube account so they can caption it during the session. In addition, the participant will need an Amara account and the URL for a short video they want to caption using Amara.

Tailoring to Fit: Selling Ideas for What's Possible in Online Teaching

Facilitated by: Jessica Handley, The University of Texas Rio Grande Valley

How many times have you heard, "I just don't see how it's possible to do XYZ online"? Join us as we wield powerful strategies to debunk this misconception through case studies illustrating real reformatting situations in higher education. Then we'll make it personal by offering solutions to our own design challenges. You'll leave with a productive set of tools and resources to prove that it's not only possible to do XYZ online, but that it may be impossible to do it any other way from now on.