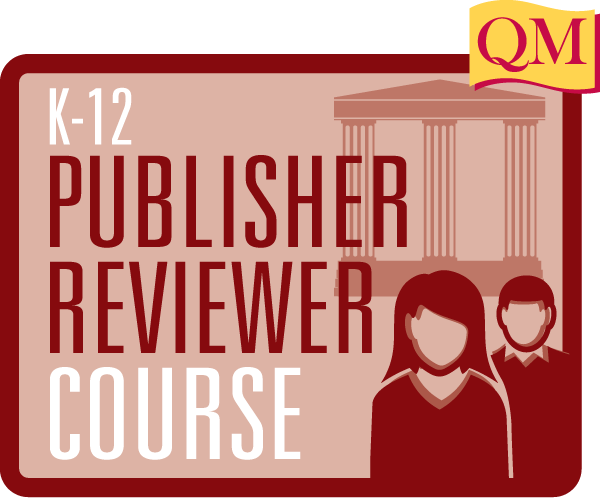 K-12 Publisher Reviewer Course (K-12 RCPUB)
Add to your knowledge of the K-12 Secondary Rubric and become eligible for serving on K-12 Publisher Reviews by completing this course.
Course Length:
Approx. 2 hours
Delivery Mode:
Online (Asynchronous)
Register
Fee with Membership:
$50.00
The K-12 Publisher Reviewer Course is designed to prepare experienced online course developers and teachers to become Quality Matters Certified K-12 Publisher Reviewers. By becoming certified as a K-12 Publisher Reviewer, you will become familiar with the K-12 Publisher Rubric, Third Edition and gain the skills needed to conduct your own internal review of K-12 Publisher courses. 
Once you meet the eligibility requirements, you could be asked to serve on an Official QM Review of K-12 third party/vendor courses and be compensated by QM.
Recommended For
Online teachers or course developers who have completed the K-12 Applying the QM Secondary Rubric Workshop and the K-12 Reviewer Course.
Offered as Online Dedicated
No
Offered as F2F Dedicated
No