Dr. Deb Adair, QM Executive Director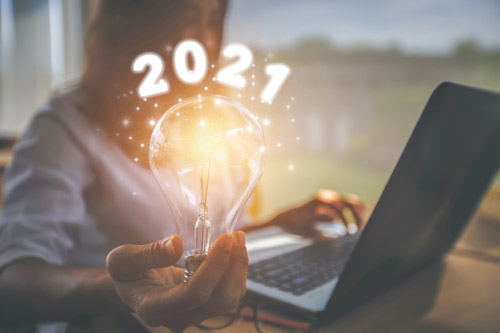 "How might we approach teaching and learning differently if inclusiveness, rather than exclusiveness, was held to be synonymous with quality?"
In 2021, let's recommit to an agenda of quality. 
In addition to seeing a calamitous year come to an end, there are many reasons we are excited for what's to come. Among the things that were upended in 2020 were preconceived notions about the utility of online learning and, more broadly, the pervasive inertia in the overall approach to education. I've shared my thoughts on the lessons of 2020 in a recent EvoLLLution article. Today, I build on those thoughts and examine the opportunity for change that 2021 brings and how the digital learning community will be instrumental in leading it.
As we begin this work, our community needs to move forward with a clear mandate for quality that includes heightened attention to equity and inclusion. The challenge for us is that we must do this work on a bigger scale and broader scope with tighter resources. This mandate requires us to be scalable, flexible, and relevant for learning in all modalities and for all learners. It's no longer about online education, it's about designing quality education for all.
A Beacon of Light
Throughout the pandemic, QM was a lighthouse for quality in a murky time. Our expertise in course design and faculty development was widely acknowledged — drawing record levels of members and professional development participants as we worked to quickly scale our services to support the needs of the community in moving education from the campus to the cloud. Like all of you, the QM team went all out to support quality student learning experiences.
Also like you, we tried to draw attention to the differences between emergency remote teaching and well-planned, appropriately designed online education. We all knew that this distinction was critical in any evaluation of educational outcomes in 2020 as well as for the continued acceptance and growth of online education post-pandemic. Now, with a post-pandemic future in sight, the distinction remains relevant for research, but moving forward we should keep our focus on ensuring the quality of all modalities for all learners. There is no turning back to the way things were. Let's build on what we've learned and change the conversation away from the myths about online learning to the practical challenges of making all forms of digital learning effective in all contexts for all learners.
A Shared Experience
As we experienced the trauma of COVID-19 with the rest of the world, we saw a global awakening about the efficacy of online education. QM's work, in fact, has expanded to 26 countries, revealing shared global concerns for quality in digital learning environments, including access, equity, and pedagogical practices that support learner success. However, as digital learning is integrated into strategic plans the world over, it's important to note that the expertise to do this work well is rather limited. It's not just online proficiency that is needed; it is wholesale change in our perception of quality and what it looks like in teaching and learning.
A New Definition
A few years ago, during  a conversation with an administrator from an R-1 institution, I defined QM as an approach to "raise all boats." He felt his faculty would be more receptive to an opportunity that set them apart — to achieve a level of distinction that others could not. Although he was speaking specifically about motivating effort and interest, it highlighted for me the pervasiveness of equating quality with exclusivity. Exclusivity has long been used in higher education, in particular, to signal quality. This idea that it can't be quality if everyone can achieve it needs to be challenged if we hope to improve today's inequities in access and attainment of education. How might we approach teaching and learning differently if inclusiveness, rather than exclusiveness, was held to be synonymous with quality? At QM, we are working to make explicit that it isn't quality unless access is equal for all and we are striving to do that through quality assurance that is increasingly scalable, flexible, and relevant.
What does this mean for QM's own agenda in 2021?  We'll be picking up where we left off in 2020: 
Expanding our digital credentials and creating more modularized learning pathways for professional development. 
Initiating, curating, and disseminating research on quality in different delivery modalities, focused on affordances of synchronous vs. asynchronous learning and effectiveness for different types of learners. 
Engaging in examining quality at the intersection of work and education
Examining ways to scaffold the QM Rubrics and reviews to increase their applicability, accessibility, and use in different contexts.  
We'll be doing all of this using an equity and inclusion lens to ensure the pursuit of quality means the pursuit of quality for all.
A Collaborative Effort
We know many of your own organizations are on the vanguard of the work happening to reimagine the way we deliver education in more inclusive and impactful ways and we are keen to learn from and partner with you in this work. Please reach out to us — we'd love to hear what you are doing, how it's working, and how we might work with you to advance in ways that are essential now. Committing to an inclusive quality agenda has never been more important.
---