Steven R. Crawford, Ed.D.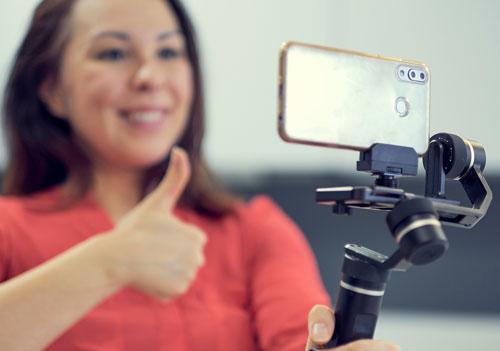 When creating a video content presentation, there are several styles to consider. We have already considered the lecture approach in which the instructor conveys information that may be supplemented with visuals. In this article, we'll review other types of videos instructors might include in courses, as well as the advantages, disadvantages, and effectiveness of each.
Demonstration Videos 
Another popular option is the demonstration approach, in which the instructor attempts to demonstrate a process in detail to their learners. These processes might include the way to approach a lab activity, the method for solving a mathematical process, or any other procedures that a learner may need to master in a course. Demonstration videos provide an excellent supplement to written material. It has been found that learners exposed to demonstration videos perform better in pre-activity assessments and complete labs in less time versus learners who only utilize written materials (Nadelson et al., 2014).
A key difference between the lecture video approach and the demonstration video approach is the primary focus of what is shown. van Wermeskerken and van Gog (2017) found that learners pay less attention to the task being demonstrated when the instructor's face is being shown. Therefore, while it is important to establish instructor presence by showing the instructor speak to learners in the video, the video should focus on the task as much as possible when it is being demonstrated. 
"Khan-style" Videos
One of the most popular types of demonstration videos is the "Khan-style." Guo et al. defined Khan-style videos as "full-screen video of an instructor drawing freehand on a digital tablet, which is a style popularized by Khan Academy videos" (2014). This type of video has been found to be more effective than slide presentations or screencasts. One reason for this is that the model encourages instructors to use a "back-of-the-napkin" style of explanation, as opposed to potentially disconnected slides (Guo et al., 2014). Instructors can then use this approach to "think aloud" as they solve mathematical equations and other types of written problems to better assist learners in understanding a process. 
Lightboard Videos
Lightboard videos are similar to "Khan-style" videos, except the presenter is writing on a clear board in front of them so that both the instructor and their writing are visible on screen. One of the earliest usages of this approach was the BBC and Hans Rosling's 2010 "The Joy of Stats" video. While this format may have visual appeal, Jose et al. (2021) did not find any correlation between this approach and learner preference, and little correlation to performance when comparing "Khan-style" videos to lightboard videos.
Tutoring Videos
A tutoring video features an instructor explaining a concept to one or two tutorees. These tutorees ask the instructor questions in order to create a better understanding of the concept being presented. Chi et al. (2016) investigated these types of videos and found that the social presence of the tutorees in the video contributed to viewer learning. They identified that since the tutorees were novices in the topic being presented, they asked questions that learners might also ask — providing an opportunity for the instructor to emphasize key concepts or present the content in a different way.
How to get Started
Of all of these types of videos, "Khan-style" videos are the easiest to create, requiring only a drawing app on a tablet. Most applications and some tablets will allow you to record audio while using the drawing app. With these apps, you can draw on an image to explain the process, much like football commentator John Madden did for many years on television as he explained football plays.
While it can be tricky to create a demonstration video by yourself, it can be done. All you need is a mobile phone that can capture video and a tripod or other device that can aim the phone at your work area. The more difficult part is that you will not be able to ensure that you are effectively capturing the area as you conduct the demonstration; therefore you may need to record a few test videos before capturing the final product. Mayer (2020) suggests that video angle could also have an impact on the effectiveness of instructional video content and suggests that the ideal angle is a "first-person" point of view, in which the camera is placed such that the video shows what the person completing the process sees. This is in opposition to the more common "third-person" point of view, in which the video appears as if viewers are watching someone complete the process.
To create a lightboard video, you will need a lightboard. There are guides on the internet on how to build them for less than $100 (USD), but you can also purchase professionally built versions for up to $1,500 (USD). An important consideration is that for the lightboard to be effective, it must have bright lights built in that will illuminate brightly colored markers and you must have a very dark background so that the contrast between your writing and the background will be highly visible. During the production of a lightboard video, writing will appear to be backwards.This is corrected by flipping the video in post production; however, take note that you cannot have any other writing visible in the background or on your clothing, as it will become reversed.
When creating a demonstration, "Khan-style," or lightboard video, you should check your center for teaching and learning or media department to see if they can assist in providing equipment and expert support. If you choose to attempt to make a demonstration or lightboard video, the extra help can be valuable to ensure you  are able to create quality content within a shorter period of time. In the case of creating a tutoring video, you will likely need this support, in addition to advanced video editing support, as you will want to use multiple microphones and cameras.
Harnessing the power of video to demonstrate processes can be one of the most effective tools in your toolbox when creating asynchronous course content. It's important to be thoughtful about the methods you use for demonstration, tailoring them to the process you're demonstrating. Another thing you'll want to address is accessibility — making sure that whatever type of demonstration video format you choose, you've considered all learners by including elements such as captions. Want to learn more about captions in instructional video content? Read my article: Captions Help ALL Learners.
---
References
Chi, M. T. H., Kang, S., & Yaghmourian, D. L. (2016). Why students learn more from dialogue- than monologue-videos: Analyses of peer interactions. Journal of the Learning Sciences, 26(1), 10–50. https://doi.org/10.1080/10508406.2016.1204546
Jose, S., Kochandra, R., & Daniel, S. (2021). Instructional videos, conceptual understanding and self-efficacy in the time of COVID. International Journal of Innovation in Science and Mathematics Education, 29(3). https://doi.org/10.30722/ijisme.29.03.001
Guo, P. J., Kim, J., & Rubin, R. (2014). How video production affects student engagement. Proceedings of the First ACM Conference on Learning @ Scale Conference. https://doi.org/10.1145/2556325.2566239
Mayer, R. E., Fiorella, L., & Stull, A. (2020). Five ways to increase the effectiveness of instructional video. Educational Technology Research and Development, 68(3), 837–852. https://doi.org/10.1007/s11423-020-09749-6
Nadelson, L. S., Scaggs, J., Sheffield, C., & McDougal, O. M. (2014). Integration of video-based demonstrations to prepare students for the organic chemistry laboratory. Journal of Science Education and Technology, 24(4), 476–483. https://doi.org/10.1007/s10956-014-9535-3
van Wermeskerken, M., & van Gog, T. (2017). Seeing the instructor's face and gaze in demonstration video examples affects attention allocation but not learning. Computers & Education, 113, 98–107. https://doi.org/10.1016/j.compedu.2017.05.013