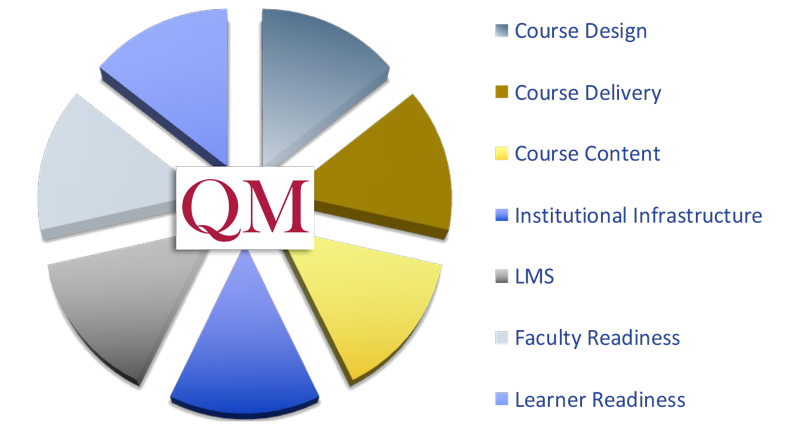 Helping you deliver on your online promise means providing you with a collaborative and collegial process that centers on continuous improvement. This process is designed to help you achieve your quality assurance goals for online learning as they evolve to address all aspects of the Online Learning Quality Pie.
Optimal Implementation of QM
There are many factors that affect the quality of an online course (these are listed in the Online Learning Quality Pie). While the QM model focuses primarily on course design, our members can leverage the QM process — along with QM resources and community members — to scale our model and apply it to all aspects of online learning. But this doesn't happen overnight. Members usually progress through stages of using QM before they attain an effective implementation within their organization. While each stage can manifest differently depending on the type of organization and its goals, there are typically five stages of implementation* that lead to creating a sustainable quality assurance system that can address all aspects of the Online Learning Quality Pie.
The QM Course Review Process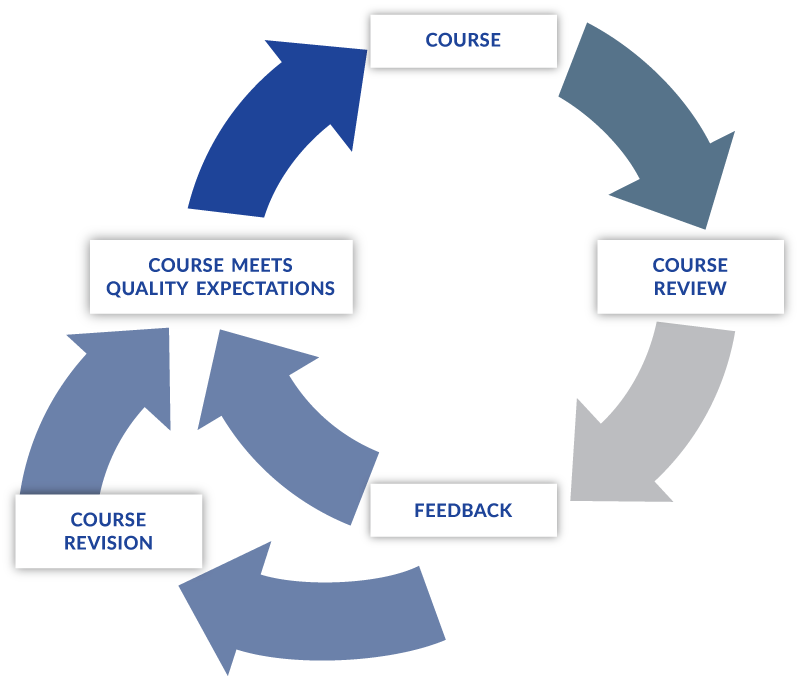 Organizations that want to put their courses through an Official Course Review and achieve the QM Certification Mark should ensure they are adequately prepared to make the most of the Course Review process. This involves understanding how the QM Rubric is used to examine course quality and how the review process is used to provide feedback for improving the course. Whether an Official Course Review is managed by QM or the subscriber, all course reviewers must be QM Certified to hold their reviewer role. The composition of the Review Team may differ slightly depending upon the Rubric used. For example, a review team conducted using the Higher Ed Rubric will have a Master Reviewer as the Team Chair and two Peer Reviewers, one of whom is designated as the Subject Matter Expert and one of whom is external to the organization submitting the course for review. A K-12 Publisher Review Team will have two reviewers, where one is a Subject Matter Expert, and a Master Reviewer serving as the Team Chair.

After submitting a course for an Official Course Review, the peer course Review Team will review the course using the QM Rubric and provide feedback on how to improve the quality of the course. Through collaboration with reviewers, instructors, and course developers, QM members can work together to improve the course to meet QM Standards at the 85% quality level or better. Members can also take advantage of professional development options that assist them in using QM Standards to improve courses. While there are many ways to meet QM Standards, a course can only achieve QM Certification once it meets quality expectations.

QM Certification is valid for 3-5 years — depending on the Rubric — and is displayed in learning management systems and course catalogs during this time to communicate course quality to students and other stakeholders. If the course hasn't undergone substantial changes, it can be re-certified through a shorter review process.
The Role of Research and Data Points
As the QM Community grows and evolves, we learn new things about applying and implementing the QM Rubrics and processes. Therefore, another critical aspect of the QM process is the role our members can play in conducting and contributing to research that is focused on Quality Matters in online learning. As your implementation of QM progresses, we encourage you to capture your experience in qualitative and quantitative data points that can be shared with your organization and the larger QM Community. This sharing of QM — through conference presentations, social media, professional associations, and other collaborations — plays a vital role in moving quality assurance for online learning forward.
---
*Steps toward excellence model and optimal implementation of QM developed by Deb Adair, 2016