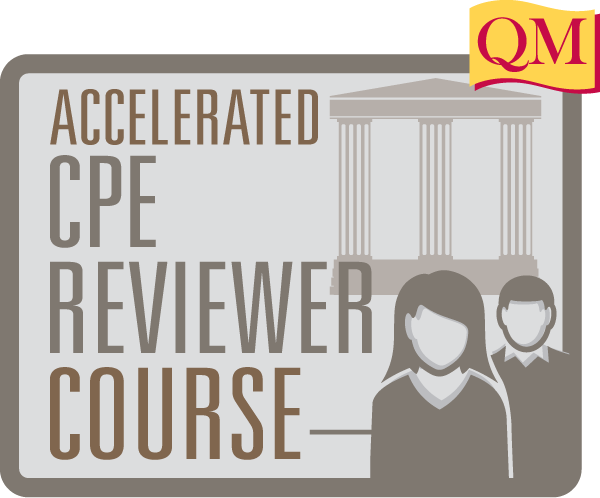 Accelerated Continuing & Professional Ed (CPE) Reviewer Course
Current Higher Ed Peer Reviewers can prepare to serve as reviewers on CPE course reviews by completing this course.
Delivery Mode:
Online (Synchronous)
Register
Fee with Membership:
$50.00
The Continuing and Professional Education Accelerated Peer Reviewer Course (CPE) prepares participants to serve as reviewers on Continuing and Professional Education course reviews. It is intended for current Peer Reviewers certified on the QM Rubric for Higher Education or Instructional designers who have taken both the Applying the QM Rubric workshop and the Peer Reviewer Course.
Recommended For
Current Peer Reviewers seeking to serve on CPE course reviews.
Prerequisites
Individuals must be QM Members in order to be reviewers.
Special Notes
Eligibility requirements to become a Continuing and Professional Education Peer Reviewer:
Current Peer Reviewer OR
Instructional Designers who have taken both the Applying the QM Rubric workshop and the Peer Reviewer Course
Recent teaching of for-credit classes is NOT required for the CPE