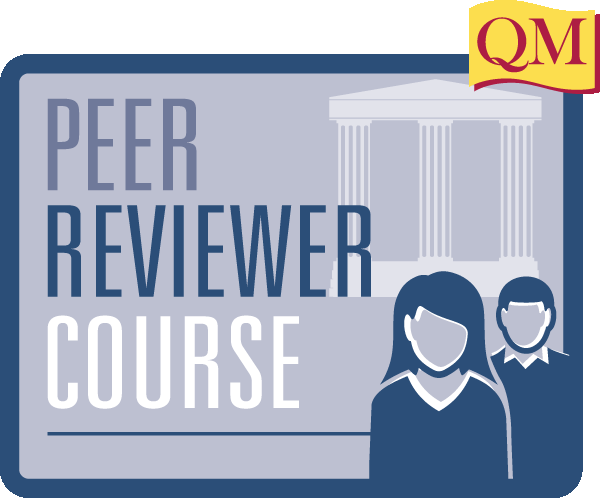 Higher Ed Peer Reviewer Course (PRC)
Get prepared to become a QM-Certified Peer Reviewer with this intensive course focused on the QM quality assurance for course review process.
Course Length:
22 days (Three weeks)
Delivery Mode:
Online (Asynchronous)
Register
Fee with Membership:
$200.00
The Peer Reviewer Course is designed to prepare experienced online faculty to become QM-Certified Peer Reviewers. The Peer Reviewer Course includes a review of Quality Matters, practice in critiquing and writing helpful recommendations, and a Practice Review in which the participants are asked to review Specific Review Standards in an online course using the QM Course Review Management System (CRMS). 
Upon successful completion of this course, eligible participants must complete and submit a Role Application as well as a Memo of Understanding in order to become a QM-Certified Peer Reviewer. QM-Certified Peer Reviewers are eligible to serve on both QM-Managed and Subscriber-Managed course reviews.
Recommended For
Those who meet the eligibility criteria for becoming a QM-Certified Peer Reviewer.
Those interested in learning more about the Peer Reviewer role.
Instructional Designers or Faculty without online teaching experience interested in conducting Internal Reviews.
Learning Objectives
Explain the underlying principles of QM and the critical elements of the QM Rubric, materials, processes, and roles and responsibilities.
Demonstrate correct application of the QM Rubric Specific Review Standards during a practice review of an online course.
Recognize the events that will transpire during the peer review process.
Write helpful recommendations for course improvement.
Reflect on how the recommendations from the AML 2020 review impacted and influenced the instructor's revisions of the AML 2020 course.
Prerequisites
Successful completion of the Applying the QM Rubric (APPQMR)
What Participants Need
10-11 hours per week to complete course work
Ability to meet firm deadlines
Offered as Online Dedicated
Yes
Offered as F2F Dedicated
No
Special Notes
Eligibility requirements to become a QM Certified Peer Reviewer*:
Successful completion of the Applying the QM Rubric Workshop and the Peer Reviewer Course.
Current for-credit online teaching experience (within the last 18 months).
Complete an Application and a Memo of Understanding.  Submit to QM.
Be a current Higher Education Subscriber (Affiliated with an institutional subscriber or Individual Subscription)
Please allow one week between the completion date of Applying the Quality Matters Rubric (APPQMR) workshop and the starting date of the Peer Reviewer Course (PRC) to ensure your record reflects successful completion of the APPQMR. Registration in the PRC is not enabled until completion is marked for the APPQMR workshop.
*Instructors who teach "web-enhanced" courses only are not eligible nor are Teaching Assistants (TAs).