The Changing Landscape of Online Education (CHLOE): Navigating the Mainstream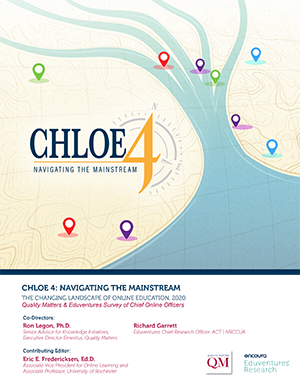 In its fourth year, the Changing Landscape of Online Education (CHLOE) Survey — a survey of Chief Online Officers (COOs) produced by the partnership of QM and Eduventures Research, the research division of ACT | NRCCUA — continued to expand, with 367 U.S. colleges and universities responding, including public, private and for-profit institutions. That represents a 31% increase from CHLOE 3.
"We believe that the CHLOE Report is important to everyone who is striving for quality in their online offerings," shared Whitney Kilgore, Chief Academic Officer at iDesign, CHLOE 4's platinum sponsor. "This year's report provides critical insights into key elements of online learning, including course design, engagement strategies and accessibility."
The 61-page report expands on major themes of the CHLOE series, including online enrollment trends, course design, finances, support services, organizational structure, and leadership. 
The CHLOE 5 Survey, which will include questions regarding continuity of instruction during the COVID-19 crisis, will be administered in the Spring of 2020. If you are a Chief Online Officer and wish to participate in the next CHLOE Survey, or if you wish to nominate the COO at your institution, please include that information on the download form and/or contact QM's Manager of Research & Development Barbra Burch.
Please complete the form below to download the report.