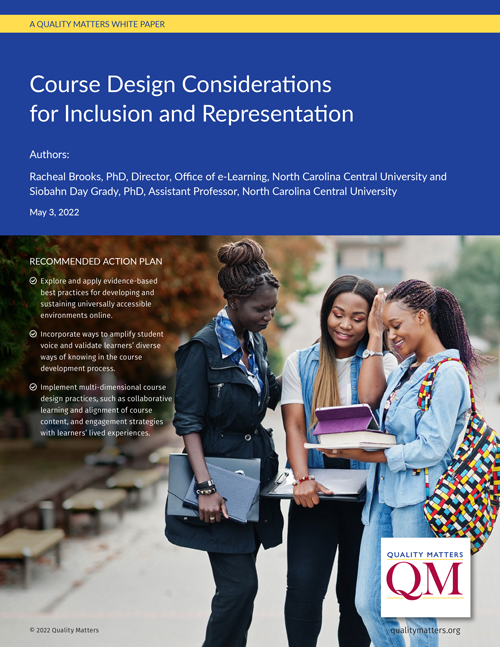 The concepts of diversity, equity, and inclusion (DEI) are explained in detail, based on research that shows the importance of incorporating these elements into online course design and the disadvantages many learners experience when they are not present.
Several models for developing inclusive course design are described, including Universal Design for Learning (UDL) — for ensuring access to learning for all learners; Inclusive Design Thinking, which centers the design process on learner needs; and the Morrison, Ross and Kemp Instructional Design Model that includes nine core elements to be implemented cyclically.
Strategies for applying the psychosociocultural framework, which supports the redistribution of power in the learning space; validation theory; and engagement practices that emancipate learners from the systems and barriers that may hinder their success are shared.
---
About the Authors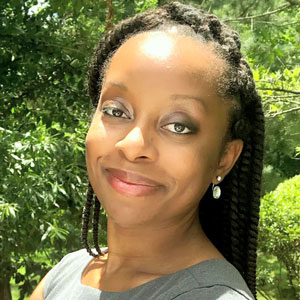 Dr. Racheal Brooks is the Director of the Office of e-Learning and Co-Chair for the University of North Carolina System Quality Matters Council. She is a member of the Quality Matters Academic Advisory Council and is a QM Research Colleague. She is also a Spanish and graduate-level research methods instructor at North Carolina Central University (NCCU) and has over 12 years of experience in higher education teaching online and blended courses. Dr. Brooks is a member of the NCCU Distance Education Advisory Council, NCCU QM Coordinator, Master Reviewer, Program Certification Reviewer, Course Review Manager, and facilitator of several QM workshops. She also established a series of learning communities on NCCU's campus that assist faculty in developing and certifying their online courses with Quality Matters.
Dr. Brooks's research interests include online instruction and learner success, online curriculum development, culturally affirming and inclusive design, digital accessibility, instructional technology, qualitative research methods, program assessment, Spanish language acquisition at HBCUs, second language learner beliefs, and minorities in Spanish language studies. Dr. Brooks holds a B.A. in Spanish from North Carolina Central University, an M.A. in Spanish Literature from Georgia State University, and a Ph.D. in Educational Research and Policy.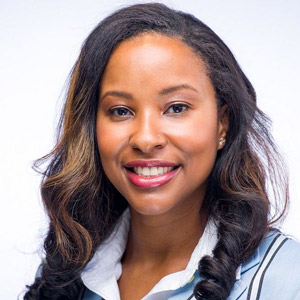 Dr. ​​Siobahn Day Grady is the first woman Computer Science Ph.D. graduate from North Carolina Agricultural and Technical State University. She is an Assistant Professor of Information Systems/Science and Program Director for the Information Science program at North Carolina Central University. She also serves as an AAAS IF/THEN® Ambassador and a North Carolina Central University Office of e-Learning Faculty Fellow. She seeks to broaden participation in computing, especially for women and girls of color in STEM. Her research focuses on utilizing machine learning to identify sources of misinformation on social media and toward improving fault detection in autonomous vehicles.
She currently holds the following Quality Matters Certifications: Master Reviewer, Peer Reviewer, and APPQMR Face-to-Face Facilitator. Dr. Grady advocates increasing the number of women and minorities in computer science. She believes that "The STEM workforce has both gender disparities and that of historically disenfranchised groups." Additionally, Dr. Grady has been featured in museums throughout the nation, spoken at national and international conferences, serves on multiple boards, and is featured as a statue in the world's largest exhibit of women statues. Technology is the way of the future, and Dr. Grady has a vision for minority girls' and women's futures. She realizes that vision by providing educational opportunities through community organizations, philanthropic efforts, college courses, and research grants and publications. More information about Dr. Grady can be found on her website.