Joe Freidhoff is the Executive Director of the Michigan Virtual Learning Research Institute at the Michigan Virtual University.
First Steps
"We identified a statewide need for a stronger online course quality assurance process in Michigan," remembered Joe Freidhoff, Executive Director, Michigan Virtual Learning Research Institute (MVLRI) at Michigan Virtual University (MVU), when asked what sparked an interest in Quality Matters (QM). "We were looking at issues of quality assurance in online courses and QM was an organization with which some of the other members of the Virtual School Leadership Alliance (VSLA) - an association of the chiefs of 13 virtual schools that collaborate and share resources, services, and expertise - were familiar."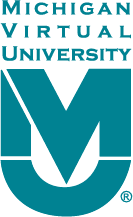 What About MVLRI and MVU?
The Michigan Virtual Learning Research Institute™ (MVLRI™) seeks to expand Michigan's capacity to support new learning models, engage in active research to inform new policies in online and blended learning and strengthen the state's infrastructures for sharing best practices.
MVLRI has partnered with iNACOL to manage the Research Clearinghouse for K-12 Blended & Online Learning, a repository of references to research articles and other publications from the field of K-12 online and blended learning. It also supports Michigan's Online Course Catalog and the Online Learning Orientation Tool.
MVU is a non-profit organization specializing in K-12 online and blended learning. Its research team produces original K-12 online and blended research and develops research-based practical resources for parents, learners and schools.
Roadmap to QM Implementation
MVLRI subscribed to and began implementing QM shortly after Michigan became a course access state, a state in which students in middle and high school can take up to two online courses per academic term from a course catalog districts publish. "Michigan's course access legislation required that any online course entered into the catalog be reviewed according to quality standards," Joe recalled, "and the results of the review be publicly accessible as part of the online course syllabus to better inform parents, learners and schools."
This new policy created an urgent, statewide need to both familiarize Michigan educators with national standards for quality online courses, and, perhaps more importantly, to help them develop the capacity to accurately and consistently assess online course quality.
MVU began working with QM to create a subscription model for Intermediate School Districts (ISDs) in Michigan. "We want to provide both the K-12 Applying the QM Secondary Rubric (K-12 APP) and K-12 Reviewer Course (K-12 RC) and, potentially, other professional development opportunities to at least one person in each of Michigan's 56 ISDs," Joe said. "We currently have multiple ISDs whose staff are receiving training and we plan to continue the project in subsequent school years."
In an effort to aid in transitioning Michigan's online and blended educators and their districts to the QM process and its implementation in advance of the statewide course access setup and rollout, MVU brought Christine Voelker, Director, QM's K-12 Program, to Michigan to conduct the K-12 APP face-to-face. "We wanted to offer educators an opportunity to vet QM, for them to get a better understanding of the way QM thinks and talks about online course quality and how it aligns with MVU's perspectives on these same topics," Joe said. "It was a great experience and allowed many people to get firsthand experience with what QM is and does."
Joe thinks the face-to-face engagement, along with the support he received from QM and its K-12 team, helped immensely in getting organizational buy-in. "We brought Chris back for another face-to-face training with ISD representatives," he remarked. "That went a long way toward getting buy-in from those participants."
Present and Future
MVU operates the Michigan Virtual School, Michigan's state-sponsored virtual school. "We are preparing multiple courses for official QM course reviews and are excited to begin that process," Joe said. "We think the value of having the QM seal of approval on our courses will help distinguish us on quality and inform our course design and revision processes as we move forward."
There's a lot more on the horizon with MVLRI, MVU and the Michigan Virtual School. "We're trying to establish and grow awareness of QM as an independent evaluator of K-12 online course content," Joe reasoned. "Many of the online courses offered in the state are created by third party vendors and we'd like to see them want to offer QM-Certified courses in Michigan."
Ultimately MVLRI and MVU see value and efficiency in schools' content providers ensure course quality via an independent third-party like QM. "We're trying to use the Michigan Virtual School and our eventual success with QM as a leading example and hope others will follow," Joe said. "We are also hopeful that parents and students will find value in QM and use it as part of the vetting process when deciding what online courses to take."