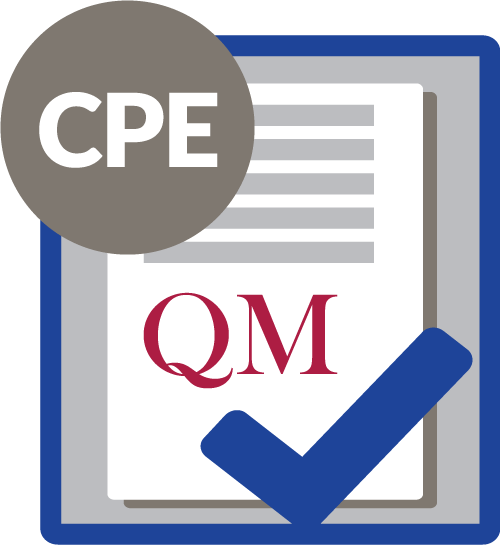 Course Design Rubric Standards
Current Edition: Second Edition, 2015
Description: A set of eight General Standards and 43 Specific Review Standards used to evaluate and aid the design of online and blended courses that have pass/fail, skills-based or other completion or certification criteria, but do not carry academic credit. Annotations explain the applications of the Standards and their inter-relationships. The Rubric has a scoring system used by the Review Team to determine whether a course meets Standards. Standards with the highest point values are considered essential and must be satisfied for a course to meet QM Standards overall.
Membership Requirements: CPE Subscription or add this Rubric to any membership through a Supplemental Subscription.
Who uses this Rubric?
The Continuing Education and Professional Development (CPE) Rubric may be used to evaluate and improve college-based, non-credit courses; massive open online courses (MOOCs); and professional training and personal development courses offered by various entities — businesses, professional and vocational organizations and associations, government agencies, and special-interest societies. There is no limit to the course-sponsoring organizations and courses to which this Rubric is applicable. Additionally, courses to which it applies may be either instructor led or self-paced, however they must be structured and have completion criteria. The Rubric is also used to assess the level to which a course meets Standards and highlight areas for improvement. A score of 85% (with Essential Standards being met) qualifies a course to receive a QM Certification for quality course design*. QM Members using this Rubric include:
Associations that manage professional development for their members
Colleges and Universities offering MOOCs, non-credit competency-based courses and continuing education learning
Businesses that develop training
Key Features
The CPE Rubric is based on the Quality MattersTM Higher Education Rubric, but adapted to the needs of CPE. The original version was developed in collaboration with the University Professional and Continuing Education Association (UPCEA) through the participation of the UPCEA Mid-Atlantic Regional Organization.
The eight General Standards of this Rubric are:
Course Overview and Introduction
Learning Objectives (Competencies)
Assessment and Measurement
Instructional Materials
Course Activities and Learner Interaction
Course Technology
Learner Support
Accessibility and Usability*
Development Notes
The CPE Rubric was first released in 2013 as the result of a collaboration between QM and UPCEA. The Second Edition reflects changes made to the Fifth Edition, Higher Education Rubric, while retaining concepts and language appropriate to courses that do not carry academic credit and may or may not be offered by educational institutions
Competency-based education has been incorporated throughout the Rubric, and "competencies" are treated as an alternative to "measurable learning objectives"