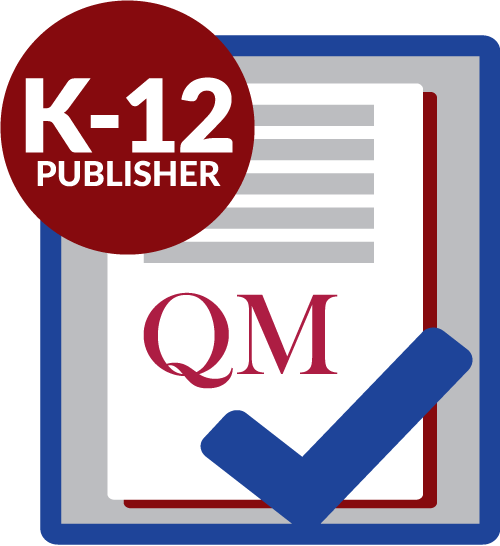 Course Design Rubric Standards
Current Edition: Fifth Edition, 2019
Description: The K-12 Publisher Rubric consists of 42 Standards assigned point values dependent upon their relative importance. Standards identified as essential have the highest point values and must be met in order to receive QM Certification*. The Standards focus on design, not delivery. Therefore, these Standards are not meant to assess any implementation on the part of the instructor/teacher.
Membership Requirements: K-12 Basic, Consortium or K-12 Publisher Subscription. This Rubric is also available with an Individual or Supplemental Subscription.
Who uses this Rubric?
The K-12 Publisher Rubric is appropriate for use with courses that have been developed by providers (either Publishers, Organizations, and/or school systems) for use in other schools/districts, where an instructor is assigned to the course at the local level. This Rubric also assists instructors and departments in selecting publisher courses that adhere to best practice and research-supported standards. Members using this Rubric include:
Publishers of virtual education solutions
Teachers, Instructional designers and design teams
Public and Private Virtual Schools and Publishers
School Systems, Local and State Boards
Teacher Education Faculty
Key Features
Unique to the QM Rubric is the concept of Alignment. This occurs when critical course components — Learning Objectives/Competencies (#2), Assessment and Measurement (#3), Instructional Materials (#4), Learning Activities and Learner Interaction (#5), and Course Technology (#6) — work together to ensure students achieve desired learning outcomes. Specific Standards included in Alignment are indicated in the Rubric Annotations.
The eight General Standards of this Rubric are:
Course Overview and Introduction
Learning Objectives (Competencies)
Assessment and Measurement
Instructional Materials
Learning Activities and Learner Interaction
Course Technology
Learner and Instructor Support
Accessibility and Usability*
Development Notes
Quality Matters collaborated with John Wiley & Sons, Inc. in developing and testing the K-12 Publisher Rubric for grades 6-12 with the goal of developing a set of quality design standards for diverse publisher products provided on Learning Management System (LMS) platforms in 2013. Since then, QM regularly undertakes a revision process to update the QM Rubric that includes input from the QM community, research about QM Course Reviews and a review of the current research literature. It involves focused input from a 12 member Rubric Committee. In addition, the QM Standards have been examined for consistency with the conclusions of the educational research literature regarding factors that improve student learning and retention rates, as well as activities that increase learning and engagement.
The Fifth Edition of the K-12 Rubric includes special Annotations for its application to elementary-level courses.