How do courses become recertified?
Depending on the type of course that was certified, QM Certification is valid for three to five years. Recertification allows you to extend the original QM Certification for a course in a cost-effective manner for up to three more years.
Even if your course became QM-Certified just this year, don't wait to start planning for recertification — now is the time to think about it. The recertification process can be used to foster continuous improvement at your organization and in your own practice. Review the feedback received during the initial review and identify the areas that need improvement. Then, make a plan to strengthen those areas for recertification.
The process for recertification is initiated prior to the original certification expiration and needs to be completed within three months of initiation. During the Recertification Review, all QM Standards applicable to the original review type are examined, and the most current edition of the applicable QM Rubric will be used. A Recertification Review may be conducted only once for any course, and is valid for up to an additional three years. When that certification expires, the course needs to have a fresh Official Review. (Please note: for HE and K-12 Publisher courses, a Recertification Content Review can only be done if the course is built on the same template as the one on file. If a different template was used, a Full Recertification Review will need to be done. Please contact QM's Director of Quality Assurance regarding questions about Publisher content and template reviews.)
If it's time to re-certify a course, the process can be initiated by completing a review application. Review applications can be found in the Course Review Management System (CRMS) in MyQM. Anyone can submit a review application, but recertification reviews are typically initiated by the QMC or the Course Review Manager. Organizations usually have a policy or process for submitting review applications.
| Type of Certification | Certification Length |
| --- | --- |
| Higher Ed | Up to 5 years |
| Continuing & Professional Ed. (CPE) | Up to 5 years |
| Higher Ed Publisher | Up to 3 years |
| K12 | Up to 5 years |
| K12 Publisher | Up to 3 years |
There are times when a course needs to be recertified before reaching the three or five year mark.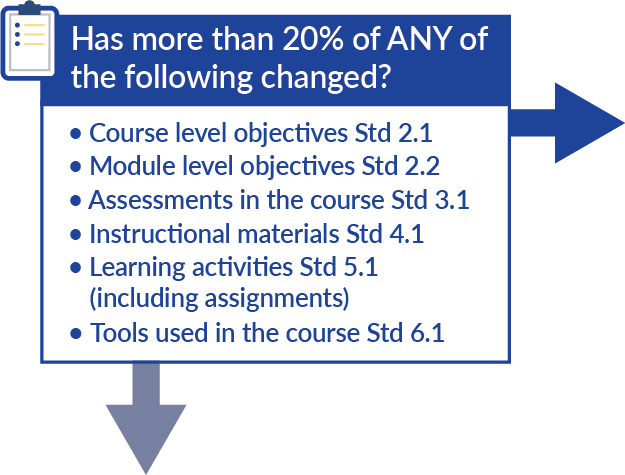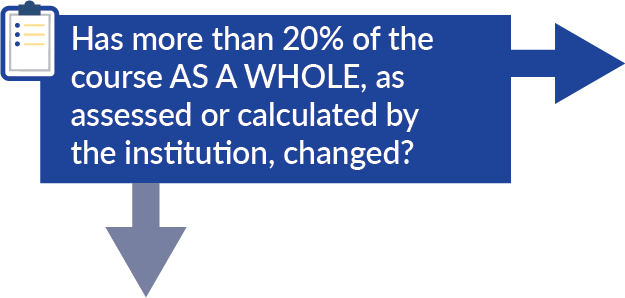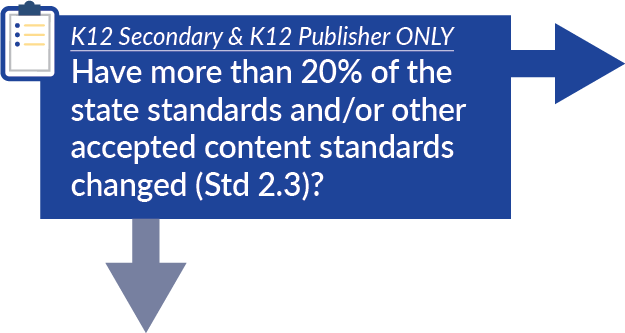 In addition to the above, there may be other times when re-certification is needed. If any of the conditions below leads to more than 20% changes to the course, the recertification requirement applies:
The institution has changed its learning management system where the course is hosted.
The textbook has been changed AND the course design was constructed around the textbook.
Any of the Alignment Standards are changed due to a textbook update or a new textbook,
Redesign of a course due to increasing or decreasing credit hours.
If the course has recently gone through a review process by a curriculum committee as a result of a regular course review cycle.
QM Certification is an important milestone on the path to building quality assurance and is a strong symbol of your commitment to delivering on your online promise to learners. Continue to build on what you have started. Have your course recertified when it is time and put other courses through the course design review process — improving the quality of your course and creating a more active learning experience for students.
Please contact QM's Director of Quality Assurance with your questions about recertification.