Inspire. Share. Connect. Present at a QM Conference.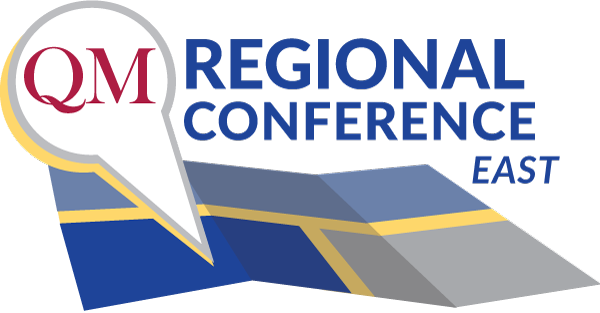 April 25 & 26, 2019
Berkeley College, New York City
Call for Proposals has Closed
Learner Success Through Quality Initiatives
From creating learner-centered environments to implementing quality assurance plans, setting your learners up for success is always top of mind. Help the entire QM Community by sharing your accomplishments and challenges using the theme "Learner Success Through Quality Initiatives". We're looking for evidence-based best practices, unique ideas and data-driven policies that are driving student success in online and blended learning.
Develop your presentation proposal for one or more of the concentration areas below and consider the format you'll use. Presentations that are interactive and reflect participation from more than one institution are encouraged.
---
Concentrations for Presentations:
1. Analyzing Your QA Efforts
It's time to crunch your numbers and information and share what they show. Proposals in this concentration should focus on the data — predictive, quantitative, and/or qualitative — behind and in support of your quality assurance efforts. How is this data used to inform decisions within the institution? How can this data help others in their own quality assurance journey? Share the results of student data analytics related to these efforts. What do the numbers show about how your institution's quality assurance efforts are impacting student outcomes, including improved grades and increased engagement? Specifically, how are QM-Certified courses making a difference?
2. QM and the Education Puzzle
Quality Matters is one piece of the overall education puzzle. Where does QM fit in at your institution? Proposals in this concentration should focus on how your institution is using QM beyond applying Standards to online and blended courses. Share the ways you are using QM to aid with accreditation and/or face-to-face courses, as well as how it impacts the role of educational technologists, learning engineers, and instructional designers.
3. Applying QM to Regulatory Issues 
Education comes with rules and standards that all schools and institutions must follow, including the Americans with Disabilities Act, privacy laws, state and federal regulations, and accreditation requirements such as those imposed by the Higher Learning Commission. Proposals in this concentration should focus on how your institution's quality assurance efforts, including the use of QM, assist with meeting regulatory issues. For example, has QM Certification aided with accreditation efforts? And how has Standard 8 assisted with meeting ADA requirements?
4. Idea Exchange
One of the best ways to gain new ideas is through the exchange of information. In this concentration, proposals should focus on unstructured ways (i.e., Birds of a Feather sessions) to share information and ideas with others who have similar interests. Topics may include technology supporting QM (IT, LMS, etc.), professional development, accreditation, online assessments, research, or QM Certification. Or create your own topic.
5. International Symposium
Share your unique experiences and best practices in adapting and applying the QM process to meet your quality assurance goals in online/distance education and e-learning. contribute your ideas to 1.) developing QM International Course Design Standards and 2.) establishing the QM International Council.
Presentation Formats
Conference presentations will be 25 minutes or 50 minutes with a ten-minute transition period between sessions.  
Theater-Style Presentation (presentation + Q&A): 25 minutes
Group Presentation (presentation + Q&A): 50 minutes
Roundtable Format (interactive discussion throughout): 50 minutes