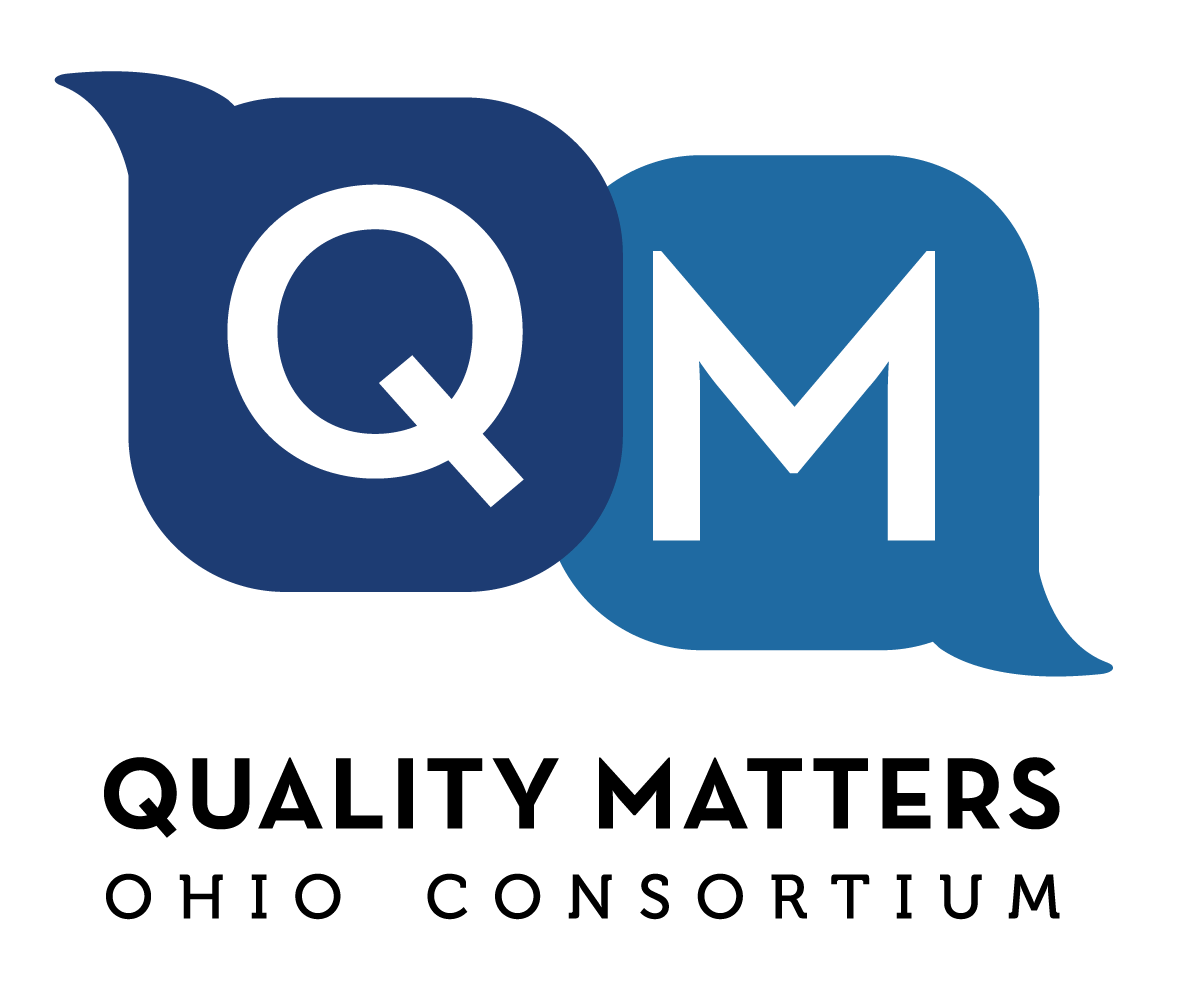 "Awareness of Quality Matters is growing among students, and when institutions and faculty share information on QM-Certified courses, students have the opportunity to enroll in courses that they know are well-designed."Dr. Bethany Simunich, Director, Online Pedagogy and Research at Kent State Online
Official course reviews — QM-Managed and Subscriber-Managed — serve as the gold standard for evaluating course design. Upon completion of a successful official review, courses earn the QM Certification Mark — the symbol for quality in online and blended learning and a visual representation of the recipient's commitment to quality for stakeholders, including students, parents, faculty, staff, and accreditors. For many institutions, the awarding of the certification mark is the end of the process. But should it be? 
Members of the Ohio QM Consortium don't think so. "It takes time and dedication to design a course that meets QM Standards," QM Ohio's co-lead Dr. Bethany Simunich explained. "The efforts of the Course Representative, as well as instructional designers who are often the backbone of the design process, should be recognized and celebrated." And not just because of the time commitment. Bethany shared several reasons why recognizing faculty and staff is important, including:
Promoting the faculty, staff, and institutional commitment to quality online learning.
Promoting the course itself so that students can choose to enroll in well-designed courses.
Highlighting the accomplishment for faculty who are becoming involved in QM and are excited to see the pathway to QM Certification.
Considering your audience is an important first step when planning communications around QM-Certified courses. As Stephen Kaufman, QM Ohio's other co-lead shared, "Stakeholders for quality assurance in online learning include faculty, students, distance learning staff, administrators, the institution itself, and also accrediting bodies — all of whom might have different needs and goals for sharing information regarding QM Certification." Therefore, it's important to consider your audience and what the goal is before sharing the news. Stephen suggested taking these potential goals into consideration:
Faculty/the Course Representative — recognize accomplishments publicly
Administrators and the Institution — align work with the institutional strategic mission
Accreditors — demonstrate quality assurance by highlighting institutional processes that led to certification
Students — showcase options for a quality learning experience
Both Stephen and Bethany agree that students are a vital audience to reach when sharing information about QM-Certified courses because the path to certification is focused on both the learner experience and perspective, as well as promoting learner achievement. "Students taking online courses are savvy in selecting their schedules, and often seek to enroll in courses that are reported to give them a better learning opportunity and educational experience," explained Stephen. Bethany added, "Awareness of Quality Matters is growing among students, and when institutions and faculty share information on QM-Certified courses, students have the opportunity to enroll in courses that they know are well-designed."
To help spread the word to students and other stakeholders, QM Ohio employs a variety of tactics. The consortium's 59 individual members use their own institution's social media and networking sites such as Facebook, Twitter, Instagram, and LinkedIn, as well as their institutional websites. Many of their members also recognize the achievement by drafting an official letter for the Course Representative's Faculty Promotion and Tenure file and often frame the QM-Certified course certificate and present it during an institutional recognition event. 
Dr. Chuck Piscitello, an instructional designer at Ashland University, oversees promotion efforts at the consortium level. "As a statewide system, QM Ohio also shares institutional accomplishments via our official Twitter account and our Facebook page," explained Dr. Piscitello. "We also have a dedicated page on our statewide system website to recognize all the QM Ohio courses that were recently certified." QM Ohio also hosts an Annual Member Meeting. During the meeting, the Executive Committee Chair shares all courses that were QM Certified that year during the "State of QM Ohio" address and update. 
The QM Ohio team stresses the importance of reaching people where they're at and using all available resources to communicate  — not just about certified courses but all QM-related activity. "Most often we reach people through our social media accounts, annual member meetings and community listservs," shared Chuck. "But we also provide a community space on the QM Ohio website where events related to QM can be promoted and shared. There is also a member-based discussion forum, which can be used for lengthier conversations or requests for instructional design advice." Additionally, the consortium hosts monthly webinars for all QM Coordinators (QMCs) in the statewide system, and once per term, they share the courses that were QM Certified. As Dr. Simunich explained, that communication "can raise awareness for QMCs and institutions who are on the pathway to QM Certification" and helps reinforce the idea that earning QM-Certification is achievable, as evidenced by peer institutions.
If you are not currently promoting your QM-Certified courses, the Ohio team encourages you to start. "As more institutions increase their online offerings, the necessity to showcase the difference between courses which are QM-Certified and those that are not is critical," explained Bethany. Stephen elaborated, "The amount of variability that can occur with instructional design from one course to another can be substantial, and if an institution has courses that meet QM Standards, sharing why a QM-Certified course matters to students should be a part of how a course or program is promoted." Bethany and Stephen also encourage others to share the rigor and meaningfulness behind QM Certification. As Bethany noted, "Both learners and instructors should understand how following this rigorous design and review process actually leads to a course that is more intuitive to navigate and participate in, promotes accessibility, and leads to stronger outcomes and learning achievement due to alignment and a focus on active learning."
For more ideas and examples on sharing the work you are doing with Quality Matters, please check out Sharing QM Achievements: Taking it Online and Use Public Relations to Share QM Achievements.