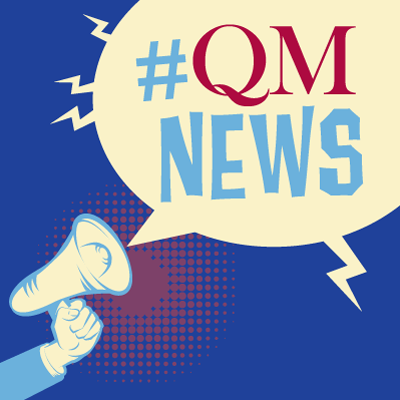 Whether you are new to Quality Matters or a veteran champion of quality assurance in online learning, you have a story to share. Make sure everyone knows about your commitment to quality assurance for online learning and your QM activities. How? We have some ideas!
New to QM?
Start by letting everyone at your institution know. Draft an internal communication to share the news that you are a Quality Matters member and why that is important. Check out "Why QM?" and the "Impact" section of our site for some helpful language. You can also share "How to use QM".
Start Spreading the News
​Tap into the power of the press. Write a press release to share your QM achievements and increase awareness of your commitment to quality assurance in online learning. Newsworthy achievements include:
Use one of the press release sample templates provided:
Contact your institution's marketing or communications department for assistance in distributing your press release. They know who to send it to in the industry press such as Inside Higher Ed, The Chronicle of Higher Education, and Campus Technology.
Think Globally, Act Locally
Start spreading the news by reaching out to the marketing or communications department at your organization. Let them know about your institution's QM achievement. They may want to feature your news in any number of outlets including your institution's website, school newspaper, blog, eNewsletter, online press, industry press, and more!
Get Social
Take to Twitter, Facebook, LinkedIn or your favorite social media site to share your latest QM news! Get some inspiration — check out these posts from QM Members: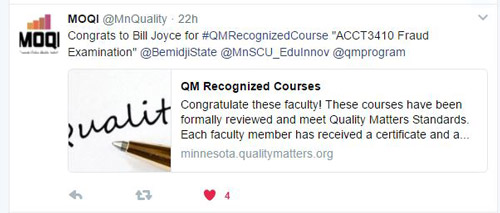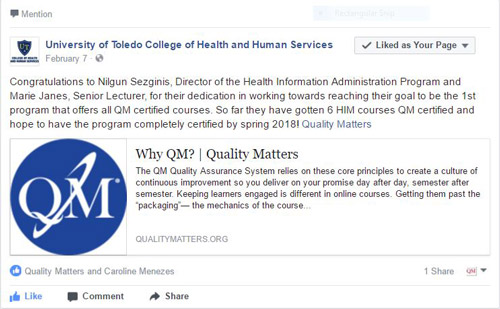 And be sure to let us know so we can join the conversation! Tag us on Twitter and Facebook using @qmprogram and use one or more of these hashtags — #QMNews, #QMRecognizedCourse, #QMMember, #QMCommunity or #QMLove — in your tweet or post!
A Picture is Worth a 1,000 Words
Did you know that QM has images and graphics that you may be able to use in your promotions? For example, if you are attending a QM Conference or presenting at one, we have a logo for that! Use the QM Conference logos in your social media posts or in your email signature. It's easy! Just right click on the logo for the conference you'll be at to download/save the image on your computer. And if your course meets standards during a QM-Managed Official Course Review, you can display and advertise the QM Certification Mark to demonstrate your commitment to quality and continuous improvement. Members may also use the QM logo to identify themselves as QM subscribing members and to identify any training they are licensed to deliver. Learn more about how the QM logo and certification mark can be used.
And Don't Forget Your Learners!
Learners need to be aware of your commitment to ensuring quality. Reach out to your learners through a variety of channels including social media, email and student forums, to help students understand what quality assurance is and why it matters in online education. Here's some inspiration from the University of Minnesota, Mankato. Plus, be sure to make students aware of the QM Certification Mark. When they see this mark, they'll know that the course was designed with their success in mind.
We hope we have given you some great ideas on how you can harness the power of public relations to share the work you are doing and extend its impact. But we might have missed something. If we did, let us know! Share with us on Twitter, Facebook, LinkedIn or send us an email and let us know how you are spreading your #QMNews!