Why should I choose a Template + Content Review?
Organizations that have developed courses based on a template may find it beneficial to have courses reviewed in two phases in order to get the most out of the course review process. Those interested in submitting five or more courses for Official Review will gain the most in cost savings. Template and Template + Content Reviews can be conducted using the HE Publisher Rubric, the K-12 Publisher Rubric or the K-12 Rubric. Organizations submitting courses for review using those QM Rubrics have the option to choose having a course reviewed in its entirety (Official Full Course Review) or to have a Template + Content Review. QM members with a K-12 Subscriber-Managed Review license can conduct Subscriber-Managed Content Reviews after a QM-Managed Template Review has been completed.
QM recommends a Template + Content Review if the organization (1) uses a standard template for course design — across subject areas — for courses it potentially wants reviewed and (2) intends to submit five or more courses for review. The template portion of the review process ensures greater consistency in the results from course to course, where a common template was used to develop the courses.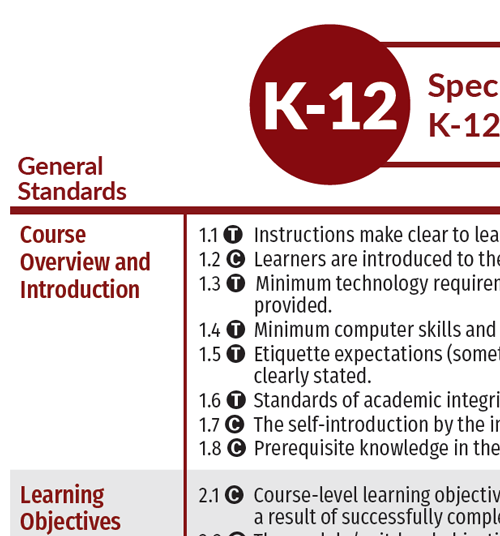 Here is how the two phases work:
Phase 1: The Template Review
A Template Review is conducted using courses provided from three different subject areas
Standards marked "T" are reviewed
Results populate into subsequent content reviews to create a Full Report and score
This review will not result in a QM Certification, but combined with a Content Review it can lead to QM Certification of courses
Phase 2: The Content Review
Review fee is per course
Once a Template Review is on file, Content Reviews can be selected
Each Content Review is populated with the findings and score from the Template Review
Standards marked "C" are reviewed
Includes Full Report with overall findings from entire Standard Set and may result in QM Certification
Questions about choosing the right Course Review option or preparing for a Template Review? Contact a QM Quality Assurance team member.