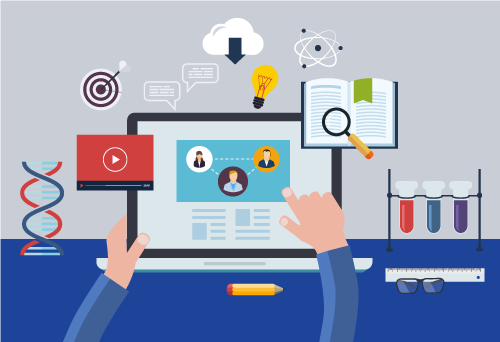 Open Educational Resources (OER) can enhance a course and add benefit for the learners. But how do you know where and when to use OER? Start by taking a look at the instructional materials you currently use in your courses. Identify units and lessons that learners typically struggle with and/or some differentiated content to personalize the online or blended learning experience for your learners. Focus on learning objectives or outcomes. With those in mind, you can begin the search.
There are so many places to find OER. Many sites have already curated that content for you, you just need to know where to look. Our QM community in particular recommends and uses the following sites routinely to find instructional materials for their courses:
Higher Education
K-12
Once you find a resource, take some time to evaluate it. Does the material you found:
Contribute to the achievement of the stated learning objectives?
Have sufficient breadth and depth?
Is the material you found:
Appropriate to the reading level of the intended students?
Current?
Culturally diverse and bias free?
Free from adult content and unnecessary advertisements?
Accessible?
How will you:
Clearly integrate it within your course activities?
Make it clear to students if it is required or enrichment?
Cite your source?
Still looking for more information on OER including how you can use it in your courses? One way to do that is to see what others are doing. Thoroughly explore other courses by becoming a Quality Matters Certified Peer Reviewer or a K-12 and K-12 Publisher Reviewer. As a QM Reviewer, you'll get to look at online courses in depth and see what other instructional designers and educators are doing, not only with OER but other important aspects of online instruction including engagement and accessibility. Don't miss the opportunity to continuously improve online learning and gain new ideas for your own course. Register for a Reviewer course today.
And don't forget — the QM Higher Education Rubric and the K-12 Rubric General Standard 4 (Instructional Materials) offer tons of guidance, and our workshops will give you hands-on experiences in finding OER instructional materials and applying the criteria.
Plus, help the QM Community by sharing your go-to OER resource. Share it on Twitter, Facebook or LinkedIn. Be sure to tag us at @QMProgram so we can pass your resource along!