How Can I Maximize My Role as a QMC?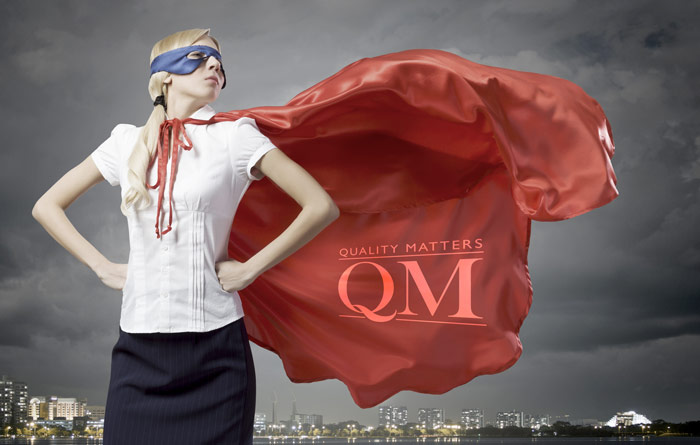 Don't go it alone
QM has many resources to help you and your colleagues make the most of your QM membership and benefits. Start by taking advantage of the complimentary QM Coordinator Training (QMCT) — available for both Higher Ed and K-12 QMCs — which provides you with a wealth of information and knowledge that empower you as the designated QM Coordinator for your institutions, including:
How to get started with QM
Introducing QM to your institution
Communicating with QM
Managing and registering for QM professional development
Using MyQM reports and tools
Planning and managing course reviews
Program certifications
The QM Coordinator Training site, which continues to remain available to you once you have completed the training portion, also features a document library and discussion board. In the library, you'll find documents to support your quality assurance efforts, such as Course Review Policies and Processes and QM Success Stories. And, if you need additional help, just use the discussion board to ask. Other QMCs with extensive experience assisting or leading the implementation of QM at their own institutions can be a great resource for you.
To access the QM Coordinator Training, log in to the QM Classroom. Those with the role of QMC for Higher Ed. and K-12 are automatically enrolled in the QMCT hosted in the QM Classroom. After logging in, you should see the QMCT in your course dashboard. If not, you can register for the training at any time.
As the designated QM Coordinator (QMC) for your organization, you play a vital role in helping establish a quality assurance process and fostering continuous improvement. You act as the official liaison between your organization and QM and will most likely be considered as the go-to person for anything related to QM. As such, you have many unique opportunities as well as important responsibilities to help achieve your programmatic or institutional goals, including:
Implementing QM
Getting off to a great start is key to your success. Many QMCs begin by increasing their own QM knowledge. One way to do that is to complete the QM Coordinator Training (see sidebar), then sign up for either the Higher Education Applying the Quality Matters Rubric workshop or the Applying the QM K-12 Rubric workshop. You'll also want to engage faculty and gain administrative buy-in. To help, visit the QM YouTube channel where you will find a short overview, member testimonials and conference session recordings.
At the organizational level, be sure to incorporate QM into any existing governance structures — such as an eLearning Task Force.
Facilitating communication
As the primary point of contact with QM, you play a critical role in the facilitation and dissemination of information. It's important for you to communicate with your colleagues about QM, your institution's quality assurance plans, the role QM plays in those plans and the various ways in which QM can support your institution's commitment to deliver on its online promise. For example, you will want to let your team know about QM's professional development offerings and QM Success Stories.
Managing professional development
Help your team grow and learn how to adopt and implement QM quality assurance for online learning by developing a professional development plan based on needs collectively identified by the team in terms of course design, development, and delivery. A great place to start is with either the Higher Education Applying the Quality Matters Rubric workshop or the Applying the QM K-12 Rubric workshop. Participants will get a good overview of QM. It is also an important first step toward building capacity for reviews. To improve instructors' online teaching or demonstrate their mastery of online teaching skills, QM offers the Teaching Online Certificate and many online-focused workshops.
Consider enrolling faculty and staff for QM Professional Development workshops as cohorts. QM offers dedicated face-to-face and online sessions of many workshops to fit your schedule and your development needs. Having faculty and staff go through workshop together builds momentum and camaraderie for your quality assurance initiative.
Championing the course review process
Course reviews demonstrate your commitment to ensuring quality for your learners. To aid the process, start by familiarizing yourself with the Course Review Management System (CRMS) — the system used to initiate course reviews. Introduce preliminary review options such as Self-Reviews or Internal Reviews (subscription dependent) to your team as a way to ease into Official Reviews. Consider Preparatory Reviews as a way to benchmark courses to see if improvements are working.
If you're a Higher Ed QMC interested in managing course reviews, consider completing the Course Review Management Certification course after you've completed your QMC Training.
Stay Connected
Use the LinkedIn site for QMCs to connect with other QMCs. You can ask questions, post information and respond to others. Three times a year, Higher Ed QMCs receive QMC newsletters, which contain important information to help you facilitate communication and develop a quality assurance process at your institution. K-12 QMCs are brought together quarterly through "QMConversations" webinars where they can connect with other QMCs and the K-12 team. Other QMC-specific emails will be sent throughout the year as well. So, always keep an eye on your inbox (and check your MyQM profile to make sure you haven't opted out of QM communications)!
Finally, we want to hear from you! Use Twitter, Facebook or LinkedIn to help other QMCs by sharing your own ideas, processes, and insights regarding how you are working with your colleagues to move your institution's quality assurance process to the next level. Be sure to tag us at @QMProgram so we can pass your information along to the QM community!