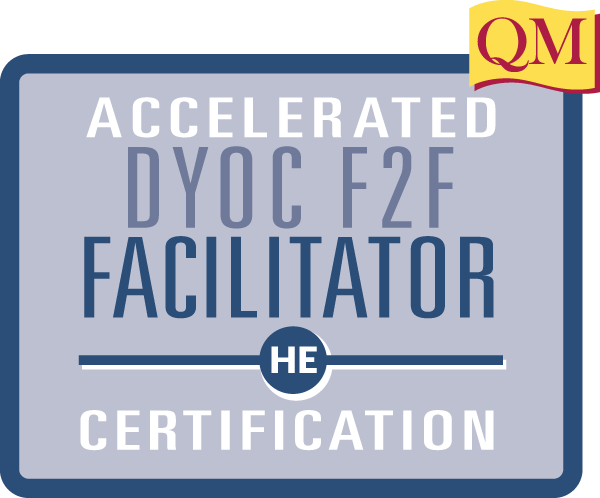 Accelerated DYOC Face-to-Face Facilitator Certification
Already certified to facilitate QM APPQMR or IYOC F2F workshops? Get certified to facilitate the Designing Your Online Course workshop at your institution in a face-to-face setting.
Delivery Mode:
Online (Asynchronous + Synchronous Component)
Register
Fee with Membership:
$200
The Accelerated DFFC is an intensive, two-week-long course that prepares F2F Facilitators to serve in the role of QM-Certified DYOC Face-to-Face Facilitator. The course extends understanding of the QM Rubric to a level of expertise that will allow participants to facilitate the face-to-face (F2F) Designing Your Online Course (DYOC) workshop at their institutions. It includes two weeks of course content and an extensive two-hour conference call at the end of the course along with a culminating assignment.
Upon completion of this certification, the DYOC workshop may be delivered by Certified DYOC Face-to-Face Facilitators at their institution or system. Cap for the face-to-face workshop is 20 participants per session. Multiple sessions should be scheduled to accommodate more than 20 participants.
Recommended For
QM-Certified F2F Facilitators who are interested in acquiring a certification to provide the DYOC workshop face-to-face at their institutions. QM-Certified Facilitators must be affiliated with an institution under a Full or System subscription.
Learning Objectives
Articulate the role the Designing Your Online Course workshop plays at your institution or within your system.
Facilitate the Designing Your Online Course workshop face-to-face.
Summarize the logistics of facilitating the Designing Your Online Course workshop face-to-face.
What Participants Need
A substantial time commitment is required to demonstrate the competencies necessary to complete the ADFFC. Participants enrolled in the ADFFC should expect to spend approximately 20 hours to complete the course in the two week period (some participants spend much more time than 20 hours).
Ability to attend the required synchronous session at the end of the second week. The facilitator will schedule a time and date after registration.
Complete and sign the Designing Your Online Course Face-to-Face Facilitator Parameters.
Synchronous Session Info
The two-hour session synchronous session is mandatory for all participants in the course.
Offered as Online Dedicated
No
Offered as F2F Dedicated
No
Special Notes
During the COVID-19 crisis, the ADFFC includes content related to delivering the DYOC as a synchronous virtual option. Participants who successfully complete the ADFFC during the COVID-19 crisis will be able to facilitate the DYOC virtually during the crisis. At this time, virtual delivery of the DYOC is a temporary option. QM has not yet decided if it will continue to allow virtual delivery of the DYOC permanently after the pandemic is over. Participants who register for and complete the ADFFC should be prepared to return to face-to-face delivery once the pandemic is over and a decision has been made.
The Accelerated DYOC F2F Facilitator Certification Course is currently an open enrollment course.  Participants have 24 hours from time of registration to start the course and must complete the course within two weeks